It's that time again that I needed to write my magazine article and finding a topic that is of interest to many is sometimes not an easy task.
Having worked in the window treatment industry for more than 10 years I thought I needed to venture out and look at alternative for creating privacy for our homes and work place.  As much as I'm a big fan of beautiful flowing curtains for window dressings, I do appreciate that curtains may not suit every application.  So  lets look at some options that are practical and look great.
Vertical or horizontal slat screening softens the structure behind and provides a homogenous facade. Keep in mind that your windows still need to be accessed for cleaning.  Horizontal screens can elongate a space and staggering the widths creates interest.
Dealing with 'overlooking' neighbouring properties can be a challenge.  Consider fixed frosted angled panels orientated to allow views secured to the balustrade or around your patio .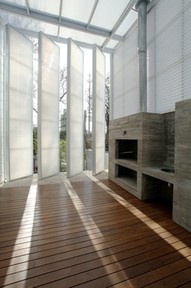 I love using patterns and if you're able to incorporate pattern into any of your spaces it looks fantastic, becomes a statement piece and perfect for many privacy applications.
Decorate an outdoor space with beautiful laser cut screens, not only for walls but for the roof.  While providing privacy and creating patterns and shadows that give life to the space.  With laser cut screens becoming more available and personalizing the pattern to suit you and your space, the options are endless, why not use it?
Lift up the location of your windows.  If designing a new home and the view is insignificant but you want to let light in, placing windows higher in the wall is a super solution.  Just remember to consider the aspect of it and whether too much sunlight will be a nuisance, glare on a television or fading furniture.
Mixing fixed glass and louvers allows ventilation as required.  Always remember to take into account the aspect of these windows, a southern aspect is perfect.  Our sun can fade interiors too easily.
And if on a tight budget and maximum light and privacy are essential a simple solution is to have frosted/opaque glass in your windows/doors.  This doesn't need to be boring by any means and with a multiple of applications available to achieve this look, your imagination is your only limit.
So why not think outside the box and be creative in find a solution to your window privacy.
Happy window dressing!