Finding the time to be invested into being Christmas ready is getting harder each year!
I know that when December is just around the corner I dread the thought of having to drag out the Christmas decorations again and finding the time to decorate my home.  I have to admit that once I've done it, I do enjoy the spirit it brings to be ready to celebrate this wonderful time with family and friends.
So I thought I'd share some simple and quick Christmas decorating ideas so we can have a stress free and relaxing festive season.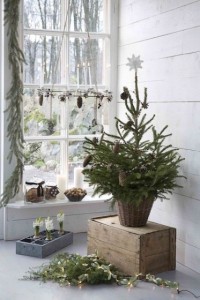 Keeping it green
Add some festive cheer to your kitchen is as simple as bringing in some sprigs of evergreen to your shelves.  Tie them into a wreath and add some black and white ribbon for a gorgeous monotone look.
Forage for inspiration
The Scandinavians put a festive focus on natural textures, such as bleached wood. Well we can turn this around by replacing it with driftwood. Collect and create into a five point star, tying at each point then wrap some fairy lights around the shape. So simple and pretty.
Bell jar display
Turning the bowl upside down gets us a cloche or bell jar look.  They are so popular and accessible now and perfect to create a little snow scene or place your precious ornaments under.  Minimal effort for maximum impact!
Decorate Everything
Make do with whatever type of tree or bush you can get your hands on and cover with Christmas decorations to fill an empty corner or spot around the house.  You can never have too many little Christmas trees.
Festive garlands
A fun activity to get the children involved is string garlands.  Cut a simple, five-point star template from cardboard and use this as a template to cut 20-30 stars in your festive colours.  Sew the stars together using a length of white thread leaving half the star size between each star.  Hang from curtain rods and pendant lights or on your tree.
Wall Christmas Tree
Got an empty wall that's calling out for some fun decorating?  Using removable hooks in the shape of a Christmas tree or star and fill with a collection of hats, baubles, tinsel and strings of beads. Don't forget to put a star on the top!
Baskets of Joy
Cane baskets and wooden boxes are calling for you to fill with festive cheer. A little greenery, branches and pinecones, some left over baubles and some bright ribbon and even some pretty fairy lights arranged casually for a relaxed look.
Centrepiece statement
Every table needs a stunning centrepiece. Any container, glass, cane, a tray can become the talk of the table by grouping candles, flowers, ribbons and even fruit or candy. Let your imagination go and have some fun.
May the merriment of Christmas be with you all and a Happy New Year.
Images Pinterest