You know, I get asked repeatedly "what is the best thing I need to do to get my home ready for sale?" And as most of you know there is the basics: declutter and remove personal pieces. But how far do you need to go to present your home to be the home that viewers can walk in and say "this is it, this is my new home".
So staging for a sale is the answer to your home being photographed well to draw buyers to inspections and make a sale. Let me share with you some of the tried and true easy solutions with you.
Remove obstacles in the way of potential buyers by depersonalising the home.  Allow them to see themselves with their furnishings in your home.  Pack away quirky, valuable and personal items until the sale goes through. All photos and portraits should be removed including family mementos.
A low-maintenance home that is ready to live in straight away is what buyers are looking for.  First impressions are lasting.  An extensive clean, is essential to remove grime, pet odours and dirt. Clean windows and light fittings to ensure the place is light and bright, gleaming appliances, spotless benchtops and all surfaces sparkling for inspection.
Repair any cracks or damaged items and even a fresh coat of paint can work wonders to freshen up spaces and makes the property feel new and well maintained.
Adding scent appeal can sometimes be overdone.  Keep the air freshener and fresh coffee use to a minimum in the lead-up to inspections.
Aim to lead buyers in each room by the right furniture placement. Don't block large windows with bulky furniture, remove all oversized pieces. Add simple touches of bright colour through accessories, to make rooms photograph well for property ads.
Simple ways to add luxury and make your home feel welcoming by buying fluffy white towels or bathrobes to hang in the bathrooms, fresh cut flowers and add cushions to lounges and beds that look inviting and high-end.  Top brand soaps and lotions and decorative candles are great styling tools to add upmarket style.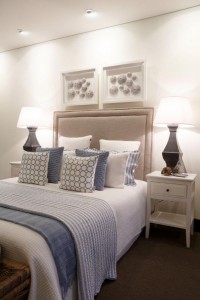 Have on hand at inspections a flyer made by your agent with key suburb information ie. Schools, public transport, parks and shops. Include data that illustrates why the home and the area is a good investment. Place flyers on you kitchen bench, coffee table and outdoor spaces for buyers to take with them as a reminder of your home.
If this all seems a little too much and you feel you need a helping hand to get you on the right track, don't hesitate to contact me.
Images Pinterest